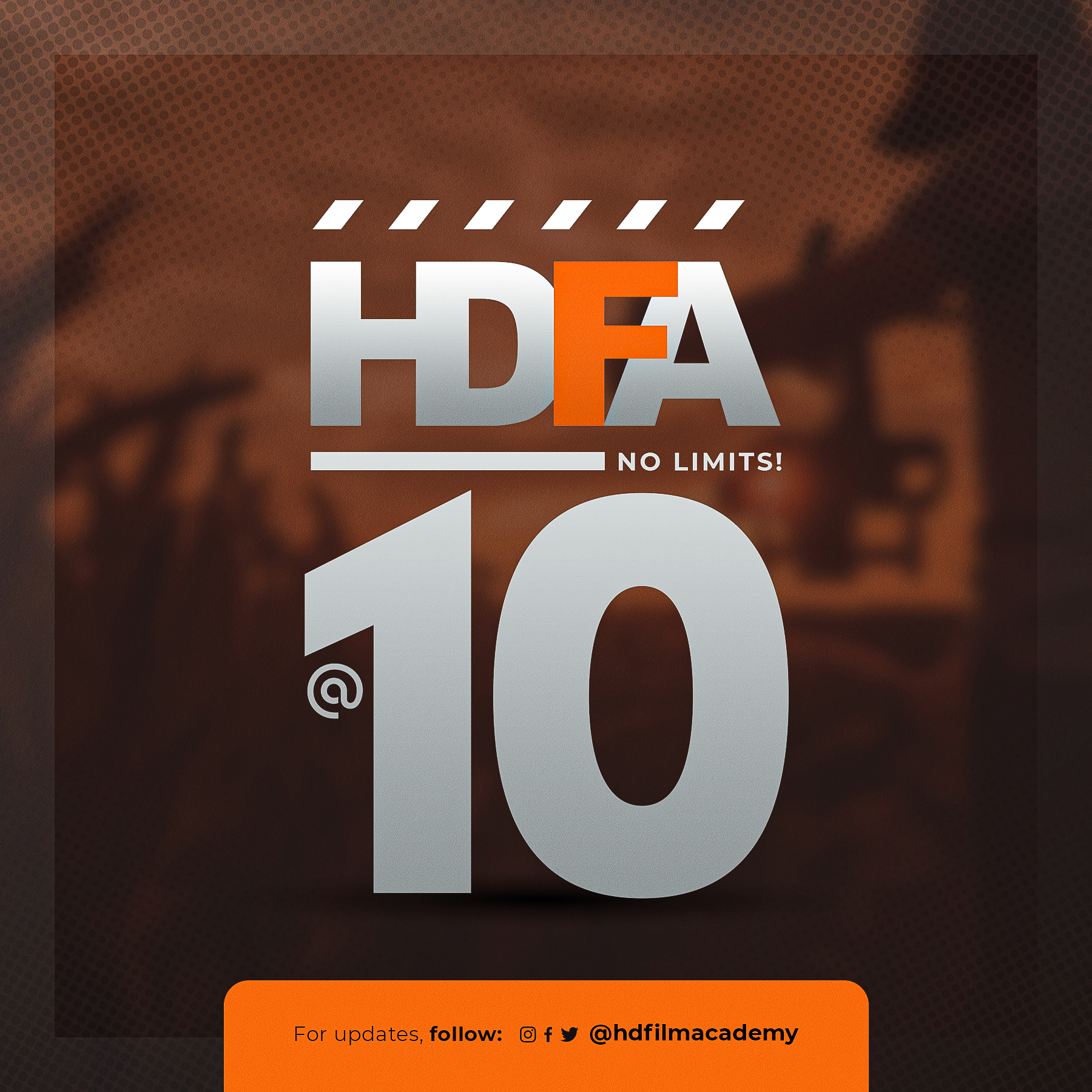 HDFA @ 10
Hurray!!! HDFA is 10!
Established in 2011 with the desire to pioneer a world class film academy and studio in Nigeria, High Definition Film Academy had set out to empower passionate talents across the world, especially young Africa generations, to sell Africa's unique stories to the international community.
At the core of the vision of the academy is to empower a generation of filmmakers who will commit to using film to drive positive change across the continent of Africa, and the world at large.
The academy which took off with a 4 days acting & filmmaking training at Cachez Garden Wuse zone 5 Abuja in February 2011, held a 2 weeks training in 2012 at the same venue, a 1 month intensive training at Silverbird Cinema Centre Abuja, and finally launched its full academic program in January 2014.
The academy has gone on to train over 600 filmmakers and actors till date, many of whom are active practitioners and success stories in the Nigerian Film Industry.
During this period, High Definition Film Academy/Studio has also produced a number of successful and multi award winning movies such as: Away From Home (2011), Broken (2013), Diary of The Triplets (2015), Remarkable (2016), Time To Be A Man (2017), If I Am President (2018), and a couple more in productions. Awards achieved by HDFA movies includes Nollywood Movie Awards 2013 (BROKEN- 6 Nominations),  Screen Actors Award 2013 (BROKEN- Best Nigerian Movie, and Best Actress in a lead role), Best Of Nollywood Award 2015 (DIARY OF THE TRIPLET- Best Nigerian Comedy Movie), Motion Picture International Film Festival MOPIFF 2019 (IF I AM PRESIDENT- Best Screenplay), and counting.
High Definition Film Academy/Studio is also pioneer of Script2Screen Africa Filmmaking Reality TV Show, designed to build and engage filmmakers with a view to driving social change using film. The reality show which was launched in 2017, finally held its maiden edition in March 2018.
Also 2018 saw the establishment of the 3rd arm of HDFS, "Film For Impact Foundation", which currently mentor and support the Film For Impact Fellowship, a community of filmmakers committed to driving social change using film, and also organize the Africa Film For Impact Festival (AFFIF), a festival dedicated to showcasing and supporting films and filmmakers committed to social change themes. The festival held its maiden edition in November 2020.
In celebration of her 10th anniversary, High Definition Film Academy is releasing FREELY on YouTube for audiences to view, all movies it has produced over the last decade since its inception.  All movies are available for viewing on the academy's YouTube channel (HDFA TV) on schedule from February 19, 2020.
In addition to this, the academy is also awarding over 10 million naira (N10,000,000) worth of Tuition Scholarship to emerging filmmakers and actors who are interested in studying at the academy for the 2021 academic session. The scholarship award will cover 10 full tuition scholarships and 40 part tuition scholarships.
The scholarship award will be given across two batches, MAY and SEPTEMBER 2021.
A major highlight of the academy/studio's projections for the future includes ongoing collaborations to equip and position the academy and studio with facility, equipment, and technical personnel for global standard film education and productions. A rebranded version of HDFS's Script2Screen Africa Filmmaking Reality TV project will also take the center stage as the frontline show in Africa, providing emerging filmmakers and actors across the continent with unparalleled Platform, Support, and Funding to build their career path and bring their dreams to the big screen.
Over the next decade, High Definition Film Academy/Studio also seek to produce and distribute disruptive film and television contents that will be a reference point for all organizations and individuals working to achieve behavioral change in Nigeria and across Africa.
As the academy celebrates her 10th anniversary, it welcomes you to take advantage of the available numerous opportunities to secure a scholarship to study at the academy, star in multiple high end productions, and secure funding and collaborations for your film projects.