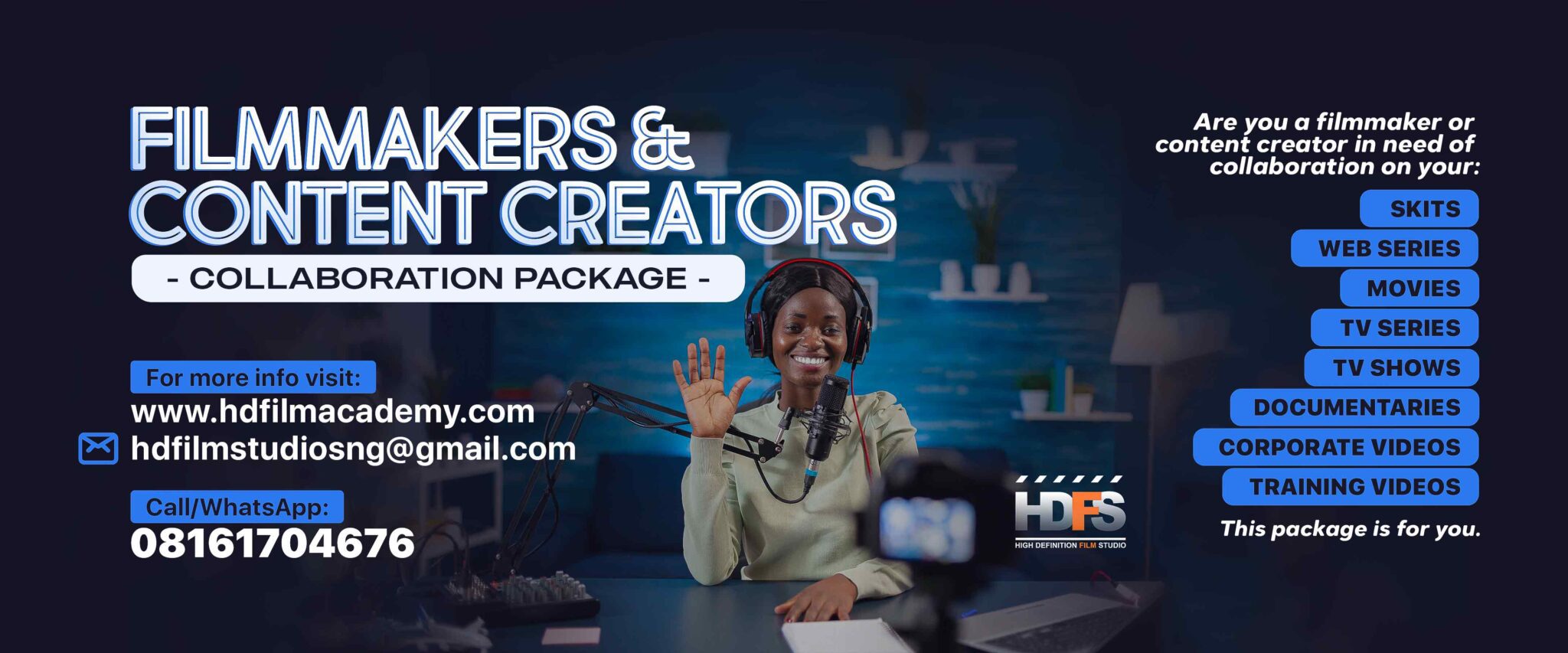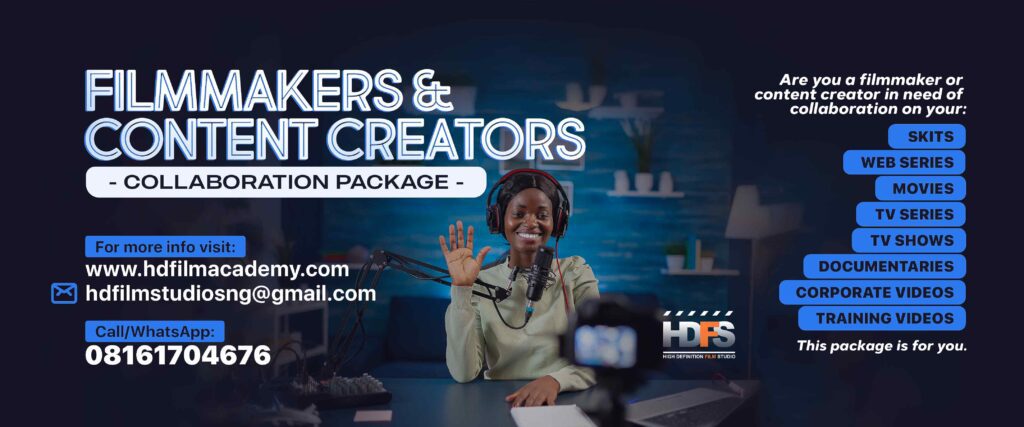 FILMMAKERS & CONTENT CREATOR COLLABORATION PACKAGE
PLEASE NOTE: This is a Business Collaboration and not a charity. SERIOUS MINDS ONLY
ABOUT
The High Definition Film Studio "Filmmakers & Content Creator Collaboration Package" is designed to provide an opportunity for Existing and Intending Filmmakers & content creators with exceptional ideas, scripts, talents and content, but lacking the know-how or struggling to make it happen, to collaborate with our studio to bring their great ideas to live and make their dreams a reality.
The goal of this package is a MUTUALLY BENEFITING collaboration that will provide content creators the opportunity to leverage on our decades of expertise and vast experience in media and content creation, and resources, to accomplish your content creation needs. from conception & development to execution and distribution, while availing our organization the opportunity to expand our business relationship.
Our organization has produced some of the most outstanding multi-award-winning movies in Nollywood, including If I Am President, Broken, and Diary Of The Triplets, and boast of highly experienced industry professionals and an arsenal of top-notch film production equipment. Our film academy ranks among the top 5 film schools in Nigeria, with over 700 students trained across 10 years.
WHO IS THIS FOR?
Existing and Intending creators of skits, short films, web series, Youtube videos, feature films, TV series, TV shows, documentaries, corporate video, training video or other contents
Visionary leaders who desire to bring their ideas to live via content creation, e.g. authors, Professional training instructors, etc.
Existing and Intending Investors in Media and Content creation
HOW WE COLLABORATE
Our collaboration is dependent on the nature of the project, and can include:
Concept & script development
Preproduction supplies; audition & casting management, facility & equipment
Production supplies; location, equipment, crew
Postproduction services; Editing facilities, Editing, Colour grading
Distribution support services to multiple platforms including major streaming platforms like Netflix, Amazon, ShowMax, cable platforms like Africa magic, and other online platforms, including YouTube.
Full project consultancy and collaboration, from development to distribution.
HOW IT WORKS
Fill out the signup form on our website and submit
Our team will review your submission to decide if it's a collaboration we want to be a
part of.
If your submission is successful, you will be invited to meet with our team to further
discuss your project and other details.
We'll sign a memorandum of understanding.
We'll collaborate on your project.
WHAT WE COLLABORATE ON:
Your project has a clear vision and prospects
Your project does not negate the vision and mission of our organization
Your project seeks collaboration and not sponsorship, meaning it already has full or part funding.
More than idea and talent, you are very well invested in your project.
Clearly shows what our organization stands to benefit from the desired collaboration.
We look forward to collaborating with you to bring your vision to life.